Looking for a different networking event?
Would you like to meet awesome people? Get more clients? Create opportunities?
Are you interested in learning more about your industry?
(YES!!)
Today I will show you how to find great places to network in your area, or any new place you go to.
Many entrepreneurs and small business owners are trapped in the well-known networking or industry events.
It's important to go to variety of events so you'll be able to get yourself exposed to new people, clients, audience, and opportunities!
In many cities, there are innovative and interesting types of events and social gatherings,
where you can network and potentially meet people you are interested in.
Networking is a lot about efficiency!
The places you choose to network at will affect your networking results!
Remember that.
Spend your time wisely on the right events and audience profiles!
In this video, I will show you how I locate interesting events in my own country or anywhere in the world I travel to.
Watch this video below to discover how to find the next event that suits your business needs
A good small talk can help you in your first communication with someone new you've met! Get my Free course: Secrets to Creating Biz Opportunities through Small Talk
Click to tweet: "To attract clients and opportunities, just put yourself out there and choose the right events to do so."
I learned in the early days of my career how powerful networking events can be, and how they can affect our careers and businesses immensely!
In 2005, I arrived in Sydney, Australia with a suitcase and one friend. That's it!
By then I had around seven years of professional work experience.
I forced myself to go to different networking events and social gatherings to build my network of friends as a "newbie" in the country.
At one of those events, I met an interesting man. He introduced me to his friends, which let me apply for a marketing role and get hired to work for the sixth-biggest corporation in Australia! This was all within three months of my arrival in Australia!
This role has been an important milestone in my career!
And it all started by meeting someone at a networking event…
Now it's your turn to share:
>Tell me- How do you find new networking events to go to?
Share it in the comment section below!
See you again next week…
network your way to success!
Lirone
P.S.-Sign up and learn how to master any Small Talk and get more business opportunities your way! Sign Up here!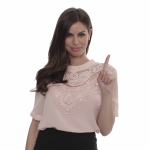 —————————————————————————————————————————————————-
Sign up for my FREE Networking tips newsletter!