I was privileged to be invited by Vasil Azarov, the CEO of Start-up Socials to join forces and initiate a webinar about business networking for his large community of entrepreneurs.
Start-up Socials is a global community of entrepreneurs, its headquarters are based in San Francisco. They organize events, hackatons (start-ups building weekends), and share articles with their community.
We had a fascinating conversation, and talked about different aspects of networking:
Vasil Azarov focused on how to build a powerful community and soft skills to use when doing so.
I focused on specific techniques- how to bring your authentic self out there when networking, techniques to break the ice easily and how to create an interesting elevator pitch.
Lots of value! Watch and enjoy!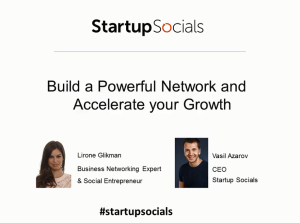 Yours,
Lirone