I have to share my recent discovery:
I heard about a closed Whatsapp group
that includes some of the world's top technology influencers!
Some networking arena!
From the chiefs of Amazon and Google up to top technology reporters
from the biggest media outlets.
Those influencers share information,
consult with one another and, in some way,
shape the world's next innovations!
This group was covered in the global media
and the interesting thing is:
we can all create this type of group with top global influencers!
This discovery led me to record a podcast with the guy that created this group,
and we engaged in a fascinating conversation about how our personal brand
can help us build our business and become friends and cooperate with top influencers!

My guest in this podcast is Morad Stren, 
the business development and innovation manager at
The Israeli Internet association.
Click below to listen to the podcast!
Morad shares the how-to's of a very important aspect in networking:
Your personal brand and how it help us in making friends with influencers.
He teaches how can anybody become an industry influencer,
and how to connect with other influencers!
You see, our brand is how people see us.
Today more than ever, we can shape our online brand to convey our message,
vision, and passions, and this is what ultimately helps people connect or not- to us!
Also, being in touch with industry influencers is like an accelerator-
having friends that can accelerate your ability to grow, influence others,
and expand your reach!
They are able to do so thanks to their abilities and resources,  and ultimately serve you!
Having influencers as authentic friends, can help you achieve your
business and personal goals better and more quickly!
In this fascinating podcast we will learn:

– Why being a thought leader in your industry is so important these days,
and how it can affect your business and life success
– What online assets you must have in order to build your personal brand
– How to create relationships with influencers who can help you grow your business,
and how to approach them and make them find interest in you?
– How anyone can do it and connect with almost anybody
– How to combine online engagement with offline events in a smart way,
to network for your success
and many more practical tips to help you grow your brand and influence!
Join me in this fascinating podcast with a guy who shapes the tech field
and enjoys an influencer status – with hard work and dedication!
Feel free to contact Morad:
Twitter: @Morad
To his linked in profile- Click here
To visit his blog- "Usability Talking" (in Hebrew) – Click here
Now it's your turn to share:
Share one of your tactics:
How do you build your personal brand
and how did you connected successfully with influencers in your industry?
Morad and I would love to know!
Keep networking your way to success!
Yours
Lirone Glikman
P.S.-Sign up and learn how to master any Small Talk and get more business opportunities your way! Sign Up here!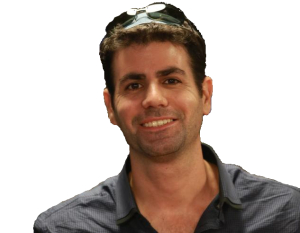 —————————————————————————————————————————————————-
Sign up for my FREE Networking tips newsletter!