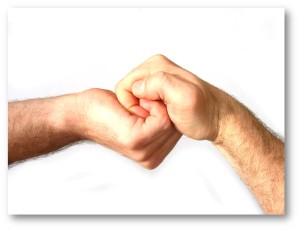 Imagine… the amazing feeling you'll have when you'll close that deal you've been working on for so long or this 'winner' feeling when you get the job of your dreams! Get exposed to a very useful inside info about your industry that will help you!
Try to really, truly feel how is it to be on your dream vacation, or feel the wind blowing in your hair driving down the road in your dream car, enjoying life to the fullest!
Yes – Networking can create all that and more in your life!
Networking is a set of tools that when used right, enables you to achieve your goals. The idea is to build an honest, mutual beneficial relationship with the prospect before you need him or her.

The Basics Of Retaining Your Network
The role that "Network Retention" plays is crucial in order for your potential connections to get to know you better and most importantly, get to trust you and eventually want to help you!
The art of retaining your net is composed of these fundamentals:
A) Before contacting the person:
– Document the person's personal and professional information you talked about, and use it when you connect again.
– Create a personal retention system that will remind you when to approach each person and how often.
B) While contacting the person:
– Always give value
– Personalize your messages
– Express true care and interest in the other person
– Don't try to sell
These fundamentals will lead  you to establish a strong, trusted business relationship that you can count on when you need it!
That being said, it is important to remember that not every person you meet is able to assist you with your many goals, and you should choose quality connections over quantity!

Ways To Retain Your Net
Long-term follow-up on people is an art. Knowing what to say from the first and important contact you make, through ongoing value based communication and up to asking for assistance.
'Making an appearance' every now and again in someone's life is just like a TV ads promotion plan;  you need to be seen several times  in order to be memorable.
Retaining your network is about "Making an appearances" and showing up every now and again in others lives and give them value. (Click to Tweet!)
There are many different ways and tactics to maintain your connections- here are some of the best I use!
1) Greet For Holidays And Birthdays
This is the most simple and trivial thing one can do to retain his or her net and people still fail to do so. Make sure to greet people with a "happy holiday" on Christmas and New Year.  When it comes to birthdays, you can find out someone's birthday on his Social Media profile, or you can ask the person himself when his birthday due. Write the date down and don't forget to express kind wishes on that day. It shows you care.
2) Send A Nice Personal Note Re: Success And Special Occasions
Write a personal note that expresses your support and/or feelings about the news. There are many types of success occasions and special occasions: big funding approval, signing up a big contract, the company tenth anniversary, media announcement, annual fundraising events and more. It can also be someone's wedding, or his son's Bar Mitzvah and many more. Try to keep up to date with your networks' successes and special occasions, It's pretty easy to do by following their personal profile and company page on social Media and also talk to friends and get update about your colleagues.
3) Follow Up On Recent Updates
Contact the person to check the progress of something specific that came up in your last conversation.  It doesn't matter if it's personal or professional issue. You approach to show your interest in him / her as a friend. It can be a deal that was about to be signed, a family member's planed job promotion, business plans that might have been executed by now and so on…
4) Send A Useful Piece Of Info
Pay attention to any useful info during your constant update on your industry's news. If you bump into an article that may interest someone in your network, make sure to send it to him or her! Mention in your personal note that you thought of the person when you saw this article and think he or she may be interested in it.
5) Help Someone With Something He Or She Needs (even if a long time had past)
Show you take other's requests seriously. Get back to a contact who asked for your assistance and let him know what you can do for him or her. Even if it's been a while you should still contact the person and say you remember the request.  Assure them that you can still help.  Respecting someone's request after so long will buy you points of trust and friendship!
6) Let Someone Know What Others Say About His Business  (Only If necessary!)
When you come across information that relates to one of your network contacts, consider if you should share it with him or her in the first place. Ask yourself whether this info could provide some value to your friend if they would know about it? You can find a positive review, but you may also encounter a negative review about the company. In some cases, letting your network contact know about the negative review will allow him or her to respond and hopefully solve the issue on the best side. This action proves how much you care about the company's reputation and business.
7) Surprise Someone With Something He Would Not Expect
This is a very good way of network retention. You can surprise someone with something you know he or she wants and that they wouldn't expect you to deliver. You should plan your surprise based on your conversations and the person's personal preferences.
*Example, last time you talked, John said he likes a certain book or a restaurant. Surprise him with this specific thing the next time you make a connection.
After a while when the relationship is established and trust is gained, you can ask for assistance. I believe that if you will put enough effort in the retention of your network you will get anything you want!
People do business and help people they trust!
Build that trust and win the help. (Click to Tweet)
I am curious to know what are your ways of retaining your network?  I am excited to learn from your experience!
If you have a friend that may find this artice useful… Please share and retain you relationship…:)
I am so happy to have you here and I wish you personally a happy weekend!
All my Love,
Lirone
————————————————————————–
Loving this content? Sign up for more… It's FREE!