Don't you feel awkward at networking events sometimes?
I used to feel really awkward and overwhelmed.
I cant forget this day, many years back,
I entered a networking event.
I was by myself standing in the entrance,
and all I saw was people and people and people.
Many were walking past me in and out.
Some talked to each other, some were laughing,
some were on the phone –
everyone seemed to be so busy.
I was feeling awkward and overwhelmed.
I didn't know what to do, where to start,
or who to speak with, so you know what I did?
I took the stairs to the second floor,
overlooking the first floor where the event was taking place.
I was watching from above and the event started to make sense.
I understood where people were gathering,
I saw different show booths, and I could spot what different
people were doing, and it just helped me to plan
where to go next and start interacting.
Then, when I turned around to go back,
I saw an old friend of mine and felt even more comfortable!
He introduced me to people,
and the event went just fine from that point on.
And why am I telling you all this?
Because I want to spare awkwardness from you
I want to share three methods to overcome
that feeling of awkwardness and disorientation at networking events.
Click the video below
Click here to learn my attractive and interactive method to breaking the ice naturally with any person in any networking situation.
Click to tweet: It's in your hands to make sense of any networking event and take action to work the room successfully!
I truly know what it feels like not knowing what to do,
who to speak with, and how to work the room.
Allow me to spare you some trial and error,
and share my experience with you in this video.
Now it's your turn to share:
>> How do you overcome awkwardness and feeling
overwhelmed at networking events and conferences?
Until next week..
Keep networking your way to success!
Lirone
xoxo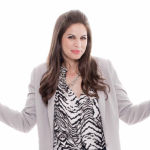 —————————————————————————————————————————————————-
Sign up for my FREE Networking tips newsletter!